inPrevious articlein,We now discuss the method can find deleted .pkg packages,Obviously the pros and cons,Then I introduced a software for everyone,pkg_uninstaller,This is what I found on the github,Its website here:https://github.com/mpapis/pkg_uninstaller
then,For us it is to install and use,of course,I regret that it does not have graphics port,Hehe。
First of all,Let's install it:
Open a terminal,Then enter:
sudo

bash

<

<

(

curl

-

sL

https

:

//raw.github.com/mpapis/pkg_uninstaller/master/pkg-install)
of course,Here it is need your password。Wait for completion,Such,File is downloaded to your / opt directory,then,In a terminal
echo

'PATH=$PATH:/opt/pkg_uninstaller'

>>

$HOME

/

.

bash_profile
So this command added to the system。This time,This software is completely installed well。
Then,Us about its use:
installation
sudo

pkg

-

install

<

pkg

包名字

.

pkg

>
Use this command to install a .pkg installation package,Use double-click,Such installation,pkg_uninstallerIt will generate a .sh uninstall scripts for you in the current directory,After you want to uninstall this software,Then to the terminal where you can run this script,For example,
.

/

uninstall_

<

package_file_pkg

>

.

sh
(of course,Conscience say,This feature I have not tested,I only use it to uninstall pkg hehe,Specific you can try)
This can be used,I've tried,Installed software can be used normally,And it will generate a file .sh Uninstaller,after,We can use this to uninstall! I specially established folders,Used to store these sh ha ha!
Uninstall
First usepkg-listNow look at those who have already installed the .pkg package,Do you really want to remember these names -
then,Use the following command to uninstall:
sudo

pkg

-

uninstall

对应包的名字

.

pkg
Okay, I admit,Some of those names package length,Fortunately, there is not a copy and paste? Oh ~ so wait for the end of it,Some software giant words - unloading speed will slow slightly,So,Do not think the crash oh,Be patient。
All right,Temporarily described here,What I can not understand a message asking me,Mmm。
Words hold for so long,Finally Biechu a bit with the article hehe,happy New Year to all!
Also a graphical pkg package removal tool!
Thanks forritzstar Message,We at http://www.corecode.at/uninstallpkg/ find a graphical pkg package removal tool,Of course,For a fee。
The price is $ 9.99,But you can remove free three programs,I think,If you just need to remove one of the two, then use the free version is enough chant ╮(╯▽╰)╭
This is a screenshot of the software (the official website from people oh)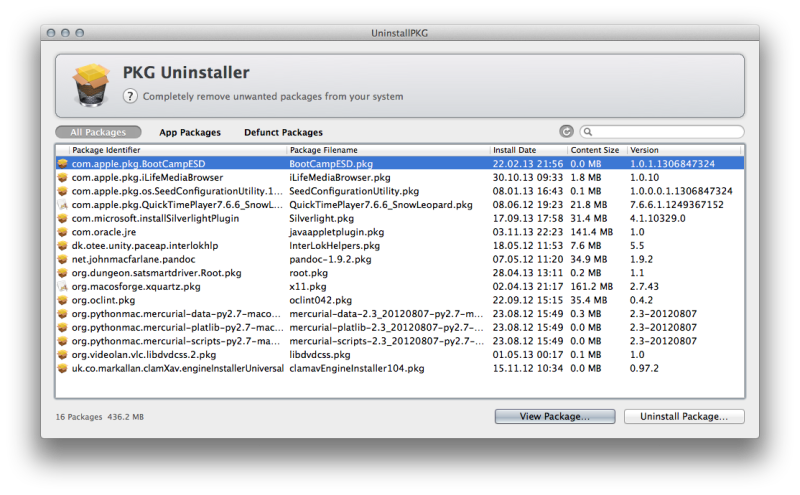 Original article written by Gerber drop-off:R0uter's Blog » Delete in OS x. pkg package software:pkg_uninstaller!
Reproduced Please keep the source and description link:https://www.logcg.com/archives/170.html